BioAdaptor™ provides an easy and cost effective way to add fingerprint authentication to virtually any software application, new or old. With BioAdaptor™, users simply use their finger to identify themselves to gain access to their computer or applications.
Mobile
Enroll fingerprints using a mobile tablet
RealScan interfaces are engineered and calibrated to allow the advanced biometric hardware to deployed in numerous ways including; tablet, web and kiosk. This flexibility dramatically increases an organization's enrollment options to allow for different scenarios without increasing costs or deployment complexity.
PCA
Our instant issuance platform (known as the Personal Credential Assistant or PCA) allows organizations to immediately issue PIV Cards in remote or branch offices.
On Demand Printing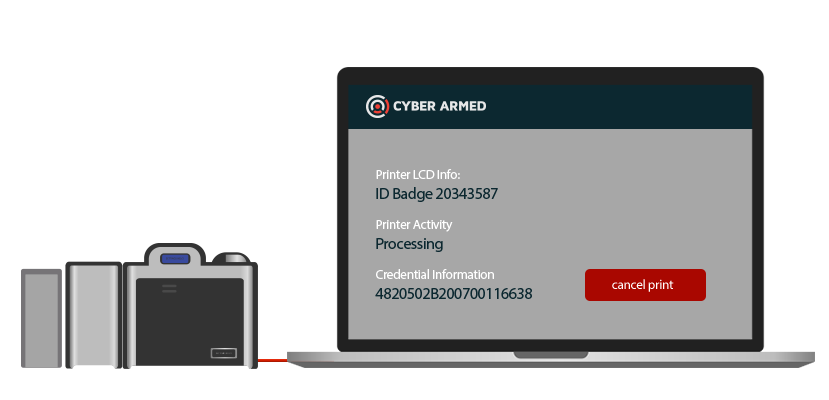 Note: Our Instant Card Loading feature allows your customers to immediately load their card with personalized security keys and biometric data.
IdExchange
IdExchange provides a simple to use, REST based API to enable the synchronization of external identity repository changes. This functionality is useful for bridging different credentialing systems. The SSM will monitor external systems and upon a change, insert in the data into the IDMS credentialing flow. Next, the data is forwarded to the appropriate credentialing systems so a credential can be generated for the user.
Reporting and Analytics
The IDMS reporting features provides insights into the ID proofing activities and credentialing performance occurring within the infrastructure. It allows managers to quickly understand how many credential activities have occurred, real time system performance and certificate lifecycle states.
Devices: Trace the entire history of a device from issuance to termination. Determine where the device was issued, which operator issued it and to what user the device was issued to.
Workstation and operator performance: Understand which workstations and operators are performing the most activities.
Real time encoding: Glean real time statistics and operations information to ensure the credentialing processes are performing at their highest potential. The reports allow you quickly determine how many credentials are currently being generated, proactively detect any system outage events, and improve the utilization of the system by understanding usage trends.
Certificate Management: Rapidly determine the number of certificates that have been issued. Automatically alert credential holders or supervisors of pending certificate expirations so that certificate updates can be performed efficiently and predictably.
Processing queues: Understand the current workload of the system by seeing the processing queues. This report allows operators to determine if there any users that are not being processed and stuck within a certain phase.